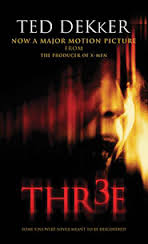 This book may be unsuitable for younger readers due to subjects of a sexual nature, drug and alcohol use, language, violence and/or other controversial material. The flames indicate my subjective opinion of the degree of these subjects in the book. There may or may not be all of them represented and there may be others represented that are not specifically mentioned. Please research the suitability of all books for yourself and your family especially if you are unfamiliar with the author or publisher. 0 flames does not necessarily mean the book is suitable for young children it merely means there is no "mature" content.
Three

by Ted Dekker
Published by Thomas Nelson on June 5th 2003

Enter a world where nothing is what it seems. Where your closest friend could be your greatest enemy.
Kevin Parson is driving his car late one summer day when, suddenly, his cell phone rings. A man who identifies himself as Slater speaks in a breathy voice: You have exactly three minutes to confess your sin to the world. Refuse, and the car you're driving will blow sky high.
Kevin panics. Who would make such a call? What sin? Kevin ditches the car. Precisely three minutes later, a massive explosion sets his world on a collision course with madness.
From the #1 best-selling fiction author comes a powerful story of good, evil, and all that lies between.
ISBN: 0849943728
Pages: 352
Source: Library
Format: Hardback


This post contains affiliate links you can use to purchase the book. If you buy the book using that link, I will receive a small commission from the sale.
Buy on Amazon
Goodreads
Genres:
Christian Fiction
,
Mystery
,
Suspense
BIBLIOPHILE MUSINGS:
While this is not a book I would have chosen on my own, I am grateful to the Christian Book Club on MySpace/Groups for selecting this for discussion this month. It gave me an opportunity to expand my reading horizons.

A purely subjective response on my part would be that this is not my type of story and my tastes haven't changed as a result of reading it.

A slightly more objective view is that Dekker writes a gripping psychological thriller and knows what he is doing. His characters, while some details may seem a bit questionable, are still human and come to life on the pages of his book. It is easy to relate to the characters due to the thorough development he does throughout the book without sacrificing plot movement or inserting unneeded fillers.

This particular novel starts out with Kevin (the main protagonist) receiving a cell phone call which presents him with a challenge to call the local paper and confess some sin which he seems to be unaware of. The caller also presents a riddle that is intended as a clue to this elusive sin. The scary part of this challenge though is that Kevin is given only 3 minutes to solve the riddle and make the phone call or his car will be blown to bits.

Will Kevin solve the puzzle in time and escape? What is this mysterious sin the caller refers to? If you enjoy suspense and thrillers – hang on to your seats for the ride of your life. Read Three by Ted Dekker to find out the answers to these questions and more.
Related Posts