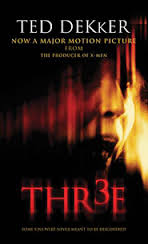 BIBLIOPHILE MUSINGS:
While this is not a book I would have chosen on my own, I am grateful to the Christian Book Club on MySpace/Groups for selecting this for discussion this month. It gave me an opportunity to expand my reading horizons.

A purely subjective response on my part would be that this is not my type of story and my tastes haven't changed as a result of reading it.

A slightly more objective view is that Dekker writes a gripping psychological thriller and knows what he is doing. His characters, while some details may seem a bit questionable, are still human and come to life on the pages of his book. It is easy to relate to the characters due to the thorough development he does throughout the book without sacrificing plot movement or inserting unneeded fillers.

This particular novel starts out with Kevin (the main protagonist) receiving a cell phone call which presents him with a challenge to call the local paper and confess some sin which he seems to be unaware of. The caller also presents a riddle that is intended as a clue to this elusive sin. The scary part of this challenge though is that Kevin is given only 3 minutes to solve the riddle and make the phone call or his car will be blown to bits.

Will Kevin solve the puzzle in time and escape? What is this mysterious sin the caller refers to? If you enjoy suspense and thrillers – hang on to your seats for the ride of your life. Read Three by Ted Dekker to find out the answers to these questions and more.
Related Posts